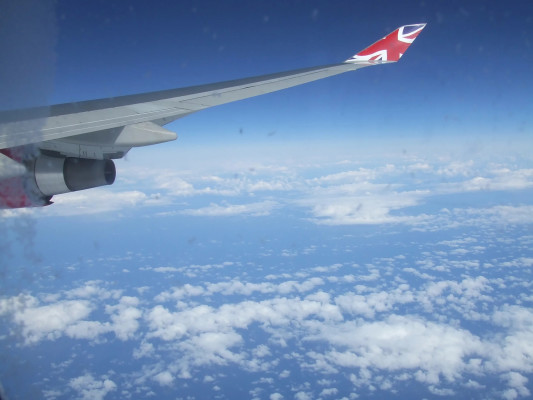 Somewhere over the Atlantic – Photo by Moragh Carter
An overview
I welcome you to this site where you will find some of my travel stories from my trips in the USA, from 2007 onwards. Here you will find tales about places I have visited, people I've met and some of the adventures, and near scrapes, I've had during my travels. I hope you enjoy reading about them.
Most of my journeys within the USA to date have started and finished in Florida. Apart from those times when I have flown direct to Boston from England, I have flown from Manchester, UK, and landed at Orlando International airport. I usually stay at the Comfort Inn in Sanford for my first night or two. I like this hotel, with its friendly and welcoming staff, and it is only a half-hour drive from the airport. It also serves breakfast until 10.30 am, which is a bonus, whereas most hotels only serve it till 9.00 or 9.30 am. Staying here for a couple of nights gives me time to get over the worst of  my jet lag before start my long drives. After visiting friends in Florida, I usually head up to Tennessee, making a round trip back to Florida, visiting many friends on the way.
During some trips I have also visited Massachusetts or Texas, where I have relatives, or New York State, including Buffalo and Niagara Falls. I have had overnight stays in Georgia, South Carolina, Ohio, Alabama and other places en route. I have also seen quite a few airports at various times.
On many of my trips I have driven a round trip of about 2,000 miles, starting in Florida and visiting Nashville and the Smoky Mountains, among other places, before heading south again. Twice I have driven the 3,000 mile round trip from Florida to Buffalo, NY. On my longest road trip to date I clocked up 3,675 miles over the month. However, when visiting Boston, MA or Houston, TX, I fly. Each of my trips are limited to 31 days maximum by my travel insurance. It takes some logistical planning to fit in all the destinations I want to go to and the people I want to meet.
I invite you to start reading and share with me the wonderful times I have had. I will be adding more my travel stories from time to time and if you want to be notified when more stories are added, please sign up for my newsletter. If you sign up, PLEASE don't  forget to click the link in the e-mail you will get. This is necessary for you to be added to the mailing list. Thank you.

Any comments you care to share with me about my stories are most welcome.